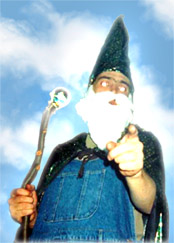 My name is Tim Marston.
I'm 40.
I live in Nottingham

with my daughter and son.
I write software (for the desktop, web and server) and like to mess about with Arduinos. I run several GNU/Linux servers and manage a network. I am a GNU project maintainer. I'm also quite interested in photography.
I have included a picture of myself (right) for your perusal; I hope it can clearly be seen how immensely powerful I am.
Contacting me
I can be reached by email at cvI@OA.xI.
Here is my GPG public key.
Fingerprint: F8F0 9C0B 79F9 0A20 F953 FB1C A6D8 13D8 C94A FA52